Winter is the best time to enjoy the Onsen or Sento to keep you warm, however any season we can visit Onsen or Sento to relax. Every Winter I go to Japan to visit Onsen but due to the Pandemic I could not go this season. Talking about Onsen do you know the difference between Onsen and Sento? The fact that both are the public baths. However, there are slightly different between them.
A table of contents
Onsen (温泉)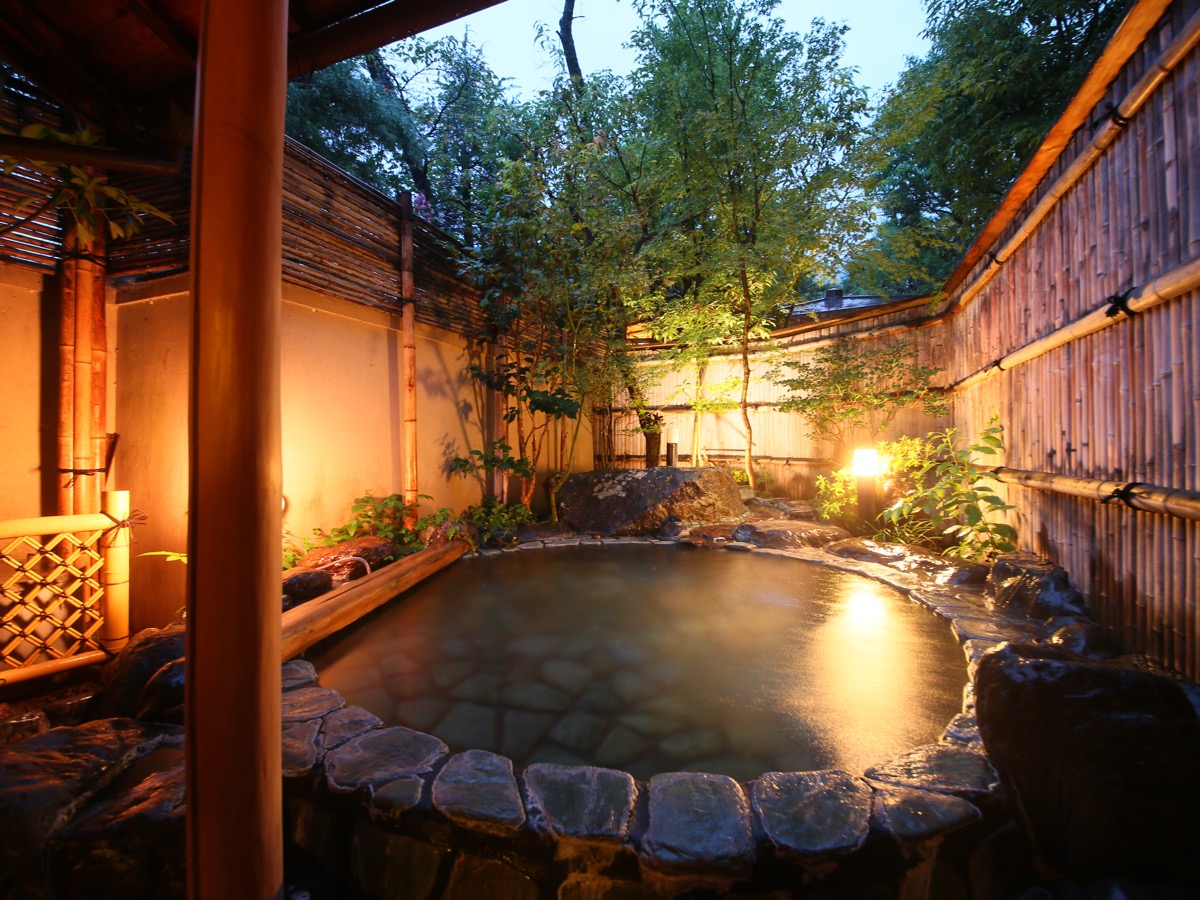 ONSEN (温泉)is the Japanese name for a hot spring. As you may know that Japan is a volcanic country, therefore, there are thousands of Onsen throughout of the country. Onsen can be located either outside or inside. The outside Onsen is called Roten-buro (露天風呂)、"Roten" means a places without a roof, in other words, an open air and "buro" means a bath. An inside onsen is called "Uchiyu "( 内湯)。Onsen uses hot water from a natural hot spring.
It has been said that the different types of hot springs cure several aches. It depends on what spring quality is. Spring quality is a simple sulfur spring containing a lot of minerals, which is said to have efficacy in nervousness and such. I remember that when I visited one of the Onsens one day, there were written explanations of the types of Spring quality they have and explained that what each Spring quality was good for, for example, backache or arthritis and so on.  
Onsen may be run by a public or privately, often as a part of hotels (ホテル), ryokan (旅館), which is a traditional Japanese local inn or bed and breakfast (民宿・min shuku) Some hotels and ryokans have a private roten-buro like the photo above. A good point of having private baths is that we do not have to share with strangers. We can just relax with person you are with. I think these are very popular among Western people who are not used to have a bath naked with completely strangers.
According to Wikipedia, traditionally men and women bathed together in Meji era, however during Meji Restoration, gender separation has been forced. Having said that in some areas, in fact, still have a mixed bathing (konyoku 混浴)facility. The kanji for Kon 混 means "mixed" and the kanji for yoku 浴 means "bathing". Usually, Onsens also have the option of "women only" or different hours for the men and women. In some prefectures, we can not take a bath naked in a mixed bathing. People are required to wear swimsuits or yuki (湯着). Children of either boys or girls may go to Men's bath or women's bath. Normally children love to take a bath with their mother, I did.
What a Ryokan looks like? 
I just want to show you what a ryokan looks like. Last January I visited a ryokan in Aichi prefecture. The owner of this ryokan told us that they concentrate their effort on their special cruise rather than a onsen buru. She said " therefore our onsen buru is just a normal one, nothing extraordinary about it but we are very much confident to provide guests with an excellent meal" and I totally agreed to her because the meal was too gorgeous to enjoy.
This is a ryokan looks like, usually features tatami matted rooms with zabuton (cussions), a low table. A room with either with bathroom, communal baths. Stuff bring meals and after meal they will come and put futon for you to sleep .
This is a public area where visitors may wear Yukata (浴衣)which is provided, and sitting, relaxing and talking to the owner, or other guests.
This is an excellent meal called "kaiseki ryouri", a variety of foods.
Sento (銭湯)
Sento is also a public bath, which may be run a public or privately, but it is a communal bathhouse where we pay for the entrance. There are separate entrances for men and women from outside and as we enter the each entrance, there is a person sitting inside of the sento between the entrance, who collects fees from both men and women customers. This person is called "bandai nin (番台人). At this point we can still see men opposite. (of course if they are tall enough to be seen) . When I used to go there with my boyfriend, he often paid the fees for us. And after that point both men and women are separated with the wall. So we used to say "OK, lets meet up outside in 45 mins" I got annoyed if my boyfriend took longer than we planed. Specially winter, can you imagine, your body is nice and warm after having a bath but then waiting for your boyfriend for too long enough to get cold?
Entrance area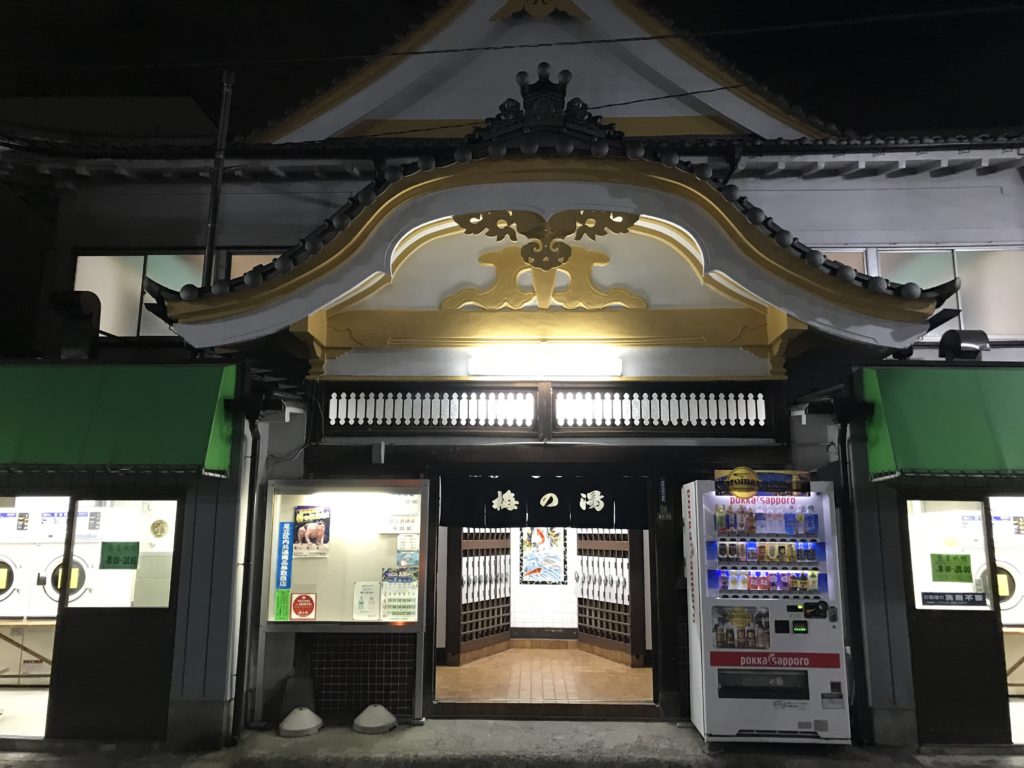 Service and Opening hours
The above reception area is very traditional looking and of course there are many modern stylish looking receptions as well but I like this style because an attendant sits on the attendant seat [ban dai]. As we go quite often, the ban dai nin, he/she remembers us, and starts talking to us. This is not just a place for taking a bath but also talking about our life in general too. I find this place very warm and friendly atmosphere. At changing room areas, there is a TV, a scale, electric fans, hair dyers, and massage chairs etc for use. At ban dai area, drinks and amenities are available to buy. I still do not know the reason why but it is very common to drink milk after having a bath. I did not cos my tummy is very sensitive.
Sento is a place you just go and take a bath as they open publicly on daily basis. Its opening hours are nomally from afternoon/late afternoon till midnight. Some sento open an early morning. There is no overnight stay accommodation provided.
Sento was very popular among Japanese long time ago. Since the second half of the 20th century, these communal bathhouses have been decreasing in numbers as more and more Japanese residences now have baths. Yet still popular place to be and some Japanese find social importance in going to public baths. Meet regular faces and have a general conversation is the way to release your stress and finishing your long day.
Bathing area
TILE ART
The most distinguish feature of sento is the tile art (tile painting). Each sento has different tile arts. While we are inside hot water looking at the tile art and having a feeling of relaxed and peaceful.
The manor how to use Onsen and Sento
Using both Onsen and Sento have similar manors. First of all, before entering into the hot water, we should wash and rinse ourselves thoroughly by putting warm water all over our bodies. Using a small towel to cover your private area if you wish, however we should not put the towel inside the bath.
Washing ares are equipped with stools, faucets, wooden/plastic buckets and toiletries such as soaps and shampoos/conditioners, also provide removable shower heads for washing hairs and rinsing. Entering the bath with soap on the body is socially unacceptable. After finished using the stools and the buckets, making sure rinsing them thoroughly for others to use. This is also a social manor. Using the removable shower heads is also needed to pay attention. Considering person sitting next to you by making sure not sprinkle water on them with the shower heads.
A few must-visit Onsen Resorts and Sento
First of all I introduce the top three popular onsen ranking in 2020!!!
1. NYUTO ONSEN
It is called "Nyuto Onsen Go" because there are seven hot springs and seven Inns at this areas. It is located in the mountains eastern Akita Prefecture. Seven hot springs uniquely have sources and a variety of spring qualities, with more than ten sources. This place is surrounded by nature . Visiting at different seasons must gives you the different taste of the nature. No wonder this place has been selected ranking No1 for year 2021 as the most popular Onsen resort where Japanese people want to visit in 2021!
2. KUSATSU ONSEN (草津温泉)
Kusatu Onsen is located in Gunma Prefeture. Japan. One of the most popular tourists destinations and famous hot spring resorts with high quality of hot spring water. There are many attractions to visit. There are 13 public baths.
The symbol of Kusatsu Onsen, steaming heat
The superb view of mysterious emerald green
The dynamic plateau driving route
This dynamic driving route takes you from Kusatsu onsen to Yudanaka, Nagano prefecture! The superb view looking down from an altitude of 2,172 meters can not be missed, specially in Summer!
The power spot for late bloomers (遅咲き)
It takes just few minutes walk from Yubatake. It has been said that it is one of the Japan's three major hot spring pharmaceutics. A paper fortune and a charm for the late bloomers are very popular at this temple!
3. YUFUIN ONSEN
It is located in Yufu, Oita Prefecture. It is a hot spring resort on the foothills of the [yufudake]. Yufudake is an active volcano at an altitude of 1.583 meters. About 852 sources which makes this onsen at the second place in Japan.
JIGOKU DANI , NAGANO
This is the place I want to visit. My preference.
This is a well-known place. The only place in the world where monkeys bathe in hot springs!! I have attached the office website below. It is located in Yamanouchi, Nagano Prefecture, Japan. It has been said that monkeys come down to have a bath in Winter time. How interesting!!
Top 3 Popular Sento in Tokyo.
Since Sento does not accommodate you, usually just go there and spend may be an half day on having a bath, a massage, relaxing, eating etc. It all depends on which Sento we go. Some local Sento managed by individual like I have mentioned above, they do not have facilities and spaces for relaxing and eating areas. Here, I just want to introduce you few popular sento. If you ever go to Tokyo in near future, and you have little time but still want to experience Sento for relaxation, then may be a good idea to visit Sento in Tokyo.
| | | |
| --- | --- | --- |
| 1. Hisamatsuyu 久松湯 | | |
| 2. Aqua Garden Mitsukoshiyu アクアガーデン三越湯 | | |
| 3. Kita Shinagawa Onsen Tenjinyu 北品川温泉 天神湯 | | |
Hisamatsuyu (久松湯)
Address: 4 Chome-32-15 Sakuradai, Nerima City, Tokyo, Japan. Opening hours: 11.00 – 23.00 Fee: Adult (over 12 years old) 460 yen, children 180 yen. Baby 80 yen. Sauna fee: 400 yen
Agua Garden Mitsukoshiyu (アクアガーデン三越湯)
Address: 5 Chome-12-16 Shiragane, Minato City, Tokyo, Japan. Opening hours: 15:30-22:00. Fee: same as above. Sauna and bathing 1300 yen.
Tenjinyu (天神湯)
Address: 2 Chome-23-9 Kita shinagara, Shinagawa City, Tokyo, Japan. Opening hours: 15:00-24:30. Fee: same as above.
It seems like the three of them have same fee but opening hours are different and some might not have Sauna.
Hope for the future travelling
Finally, due to the pandemic we are all uncertain when we will be able to travel freely to abroad at the moment. In UK, we are not allowed to go on abroad holiday unless necessary. If we break the rule we could end up paying £5000 fine. Nevertheless, I deeply hope that all of us will be able to travel abroad without too many restrictions in near future.
Thank you for reading my blog!!