It may be for works, it may be for holidays, and it may be for study, in either ways, travelling to Japan sounds exciting and interesting. Japan offers many fine things, such as diverse culture, interesting people, rich food, inspiring places, vibrate music etc which admired by many people. In this series I will start introducing from Tokyo and eventually go through major prefectures.
The Exciting Place to Go
Things to do in Tokyo
Foods to eat
Tokyo (とうきょう)
Today I will tell you about Japan's capital "Tokyo". Tokyo is one of the big cities in Japan and one of the most popular places where many tourists want to visit. People image of Tokyo as a busy city and congested with many buildings and people, however, Tokyo has many peaceful places too. Mixes the ultramodern and the traditional, from neon-lit skyscrapers to historic temples. Located at the head of Tokyo Bay, the prefecture forms part of the Kanto region on the central Pacific coast of Japan's main island of Honshu. Tokyo is the political and economic center of the country. The divisions of Tokyo consists of 23 special wards, 26 cities, 1 district, and 4 subprefectures.
The Airports
HANEDA AIRPORT
羽田空港・はねだくうこう
There are two major airports to get access the capital of Japan, Tokyo. Tokyo International Airport (東京国際空港), commonly known as Hanada Airport (羽田空港) in Tokyo and Narita Airport (成田空港) in Narida, Chiba Prefecture. It used to be the Narita Airport which was the one for any international flight to land until 1978. Then Narita Airport was opened and took over to serve international flights. In 2010, an International Terminal, currently the terminal 3, was opened at Haneda. That made us much easier and convenient access to a central of Tokyo, and what's more, transportation fee is cheaper!!! Just taking the mono rails from the Handa terminal station, it takes us just less than 30 mins to get Hamamatsucho station (浜松町) where it is accessible to Japan Rail. We are already at the central of Tokyo!!!
Transportation in Tokyo
The transportation in Tokyo is various, buses, rails, mono rails, taxis, subways, ships and planes. Wherever you want to there are many ways to go.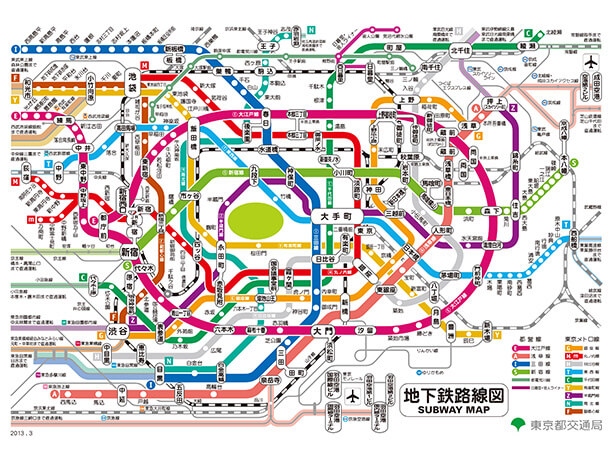 Just like UK, Buses run all over the city.
For more information of different transportation in special 23 wards please refer below:
The Exciting Places To Go – Popular Hot Spots
MY CHOICES
Tokyo Skytree
Tokyo Skytree is a broadcasting and observation tower in Sumida, it was a tallest tower (634m height) in Japan 2010. Takes about 15 mins walk from the Asakusa station. Inside there are many events held, shops and restaurants are available. An individual ticket as well as a set ticket including events etc are available.
Sensoji Temple
Sensoji Temple at Asakusa is a mast place to visit. Enjoy traditional craft shops and street-food stalls along Nakamise Street.
Tokyo Tower
Tokyo Tower stands in the Shiba-koen district of Minato, Tokyo.
Before a taller digital broadcasting tower, known as Tokyo Skytree, was completed 2012 Tokyo Tower was a tallest tower in Japan. Still popular for a dating course. A magnificent night view gives you a romantic feeling with looking down a beautiful city street of Shiba-koen.
Imperial Palace
It is the main residence of the Emperor of Japan. Contains several buildings.
Tokyo Station
Tokyo Station is a railway station in Chiyoda, Tokyo, Japan. The original station is located in Chiyoda's Marunouchi business district near the Imperial Palace grounds. Inside the station, there are many shops and restaurants which we are probably not be able to visit all.
Ghibli Museum
(三鷹の森ジブリ美術館)
The Ghibli Museum is a museum showcasing the work of the Japanese animation studio Studio Ghibli. It is located in Inokashira Park in Mitaka, a western city of Tokyo, Japan. This is a must-visit place if you love Totoro.
Things to do in Tokyo
A CRUSE AT KANDA RIVER
Why don't you take a cruising around the Kanda River either days or nights.
Sumo すもう/
Sumo museum
Located right inside the Ryogoku sumo stadium, the museum showcases rotating exhibitions of art and paraphernalia related to the history of sumo. Before/after watching sumo competition it is an interesting place to pop in.
KATSUSHIKA SHIBAMATA
Katsushika Shibamata is a well-known place for Tora san.
Tora san
People call him Tora san. Tora san is an character for a film series called Otoko wa Turai yo.
Otoko wa Tsurai yo is a Japanese film series starring Kiyoshi Atsumi as Tora-san, a kind-hearted person who is always unlucky in love. The film fans call as "Tora-san"
MEIJIZA
KABUKIZA
Daikanyama logroad
TAKAO ZAN
KAGURAZAKA
Foods to eat/place to eat
EDOMAE ZUSHI
If you visit Tokyo, well strongly recommended meal would be Edomae Zushi. First Edomae zushi was born as a fast-food in Edo era but nowadays Edomae zushi is categorized as a luxury meal.
Edomae sushi is the one I would like to try eating.
YANAGAWA NABE
Yanagi nage is a one of the Dojyo meal. (weatherfish). It was born at Edo era and a local dish. Cooking with gobo and eggs. Dojyo is cut in half before hand so they are easy to eat.
FUKAGAWA MESHI
Fukagawa meshi is a cooked rice with spring onion、Manila clam and miso paste. This is a one of Tokyo local cuisines. Fukagawa meshi is selected for top 100 Japanese dishes which are strongly recommended by the ministry of agriculture, Forestry and Fisheries. You can find a place to eat this dish at Monzen Nakacho in Tokyo. This is a high-nutrient meal.
MONJYAYAKI
Monjyayaki also monja, is a traditional Japanese food and one of Tokyo's famous dishes. It is one of those savory Japanese-style pancakes. Smililar to Okonomiyaki, the difference is to use the different liquid ingredients.
Tsukiji and Asakusa are well famous for Monjyayaki.
Picking them up a little by little with an exclusive spatula for eating.
CHANKO NABE
This is a local dish around 「Ryogoku Kokujikan」where is a well-known town for Sumo. If you are a sumo lover, this town is a place to visit because some restaurants are owned by former sumo wrestlers and you can enjoy looking at their photos and some sumo items. It is a perfect for eating and sightseeing at the same time.
Most of Chanko Nabe are cooked with vegetables, fishes and meet together. There are various flavors to choose, such as Soya source and Miso and salt.
ANMITSU
Anmitsu is a Japanese dessert that dates to the Meiji era. It is made of small cubes of agar jelly. The agar is dissolved with water to make the jelly. Sometimes it comes with fruits pieces, sweet red beans, ice-cream and syrup. This is my favorite desert.
The Ginza Wakamatsu is established in 1984 at Meiji era. This shop is well-known as a birthplace for Anmitsu. The original Anmitsu is just with agar cubes, sweet beans and syrup. The Ginza Wakamtsu still offer the original Anmitsu even now. We can get a take away and cheaper than eating at a shop.