The website rprt.jp has selected Top 10 Popular Japanese Garden 2021. I will introduce those most popular Japanese Gardens below;
1.Ashikaga Flower Park あしかがフラワーパーク
〒329-4216栃木県足利市迫間町607. 607 Hasama Cho, Ashikaga City, Tochigi Pref 329-4216 Tel: +81-284-91-4939. The website indicates as " not secure", therefore I do not attach it, however you can visit at your own risk
THE MOST BEAUTIFUL BIG WISTERIA-TRELLIS THAT JAPAN BOASTS TO THE WORLD 
We can enjoy seasonal flowers and illumination. Specially between April and May, there is a festival called [Ofuji Matsuri /大藤まつり/wisteria Festival] is held. From the end of October onward there will be a night illumination. This place was selected by American News CNN in 2014.
2.Kenroku-en 兼六園
〒920-0937石川県金沢市兼六町1 兼六園 Kenrokuen, Ken roku cho 1, Kanazawa City, Ishikawa Pref. Tel:+81-76-234-3800 The website indicates as not secure, therefore I do not attach it, however you can visit at your own risk.
THE BEAUTIFUL AUTUMN THAT JAPAN IS PROUD
Kenroku-en, located in Kanazawa, Ishikawa, Japan, is an old private garden. Along with Kairaku-en and Kōraku-en, Kenroku-en is one of the Three Great Gardens of Japan. Wikipedia
Kenroku-en is an enjoyable garden throughout of a year. Each season offers different beauty.
3. Rurikouin 瑠璃光院
〒606-0067京都府京都市左京区上高野東山55 瑠璃光院 Rurikouin 55 Higashiyama, Kamitakano, Sakyo Ward, Kyoto. Tel +81-757814001. The website indicates as " not secure", therefore I do not attach it, however you can visit at your own risk.
AN EXTRAORDINARY BEAUTY THAT RURIKOUIN HAS
You take off the Eizan Electric Railway at the last stop where it is a rather inconvenient and remote area but you get the magnificent view at Buddhist temple in a mountain.
From Spring to Summer, fresh green leaves are widely spread all over the mountain and the view of its reflection on the water surface is amazing. The view from the Buddhist temple is just breathtaking!
It is also very famous place for autumn leaves. If you go to the garden, you are suddenly surrounded by beautiful yellow, pink and red, colorful leaves.
One thing you have to careful is that it is not all seasons that you can visit for a viewing at this temple. Please check opening seasons before going.
4. Farm Tomita ファーム豊田
〒071-0704北海道空知郡中富良野町基線北15  Kisenkita 15, Nakafurano-cho, Sorachi gun, Hokkaido. Tel: +81-167393939.
https://www.farm-tomita.co.jp/en/
A BIGGEST CARPET OF LAVENDER FIELD
This famous biggest lavender field in Japan is a must visit place! It is not only the lavender that you can enjoy but also the other seasonable flowers as well. Summer in Hokkaido is comfortable temperature to spend a day on a place like this. It is not too hot compare to cities like Tokyo, Osaka. Every year many tourists from all over the Japan visit at Farm Tomita to see a such splendid view. Why not you?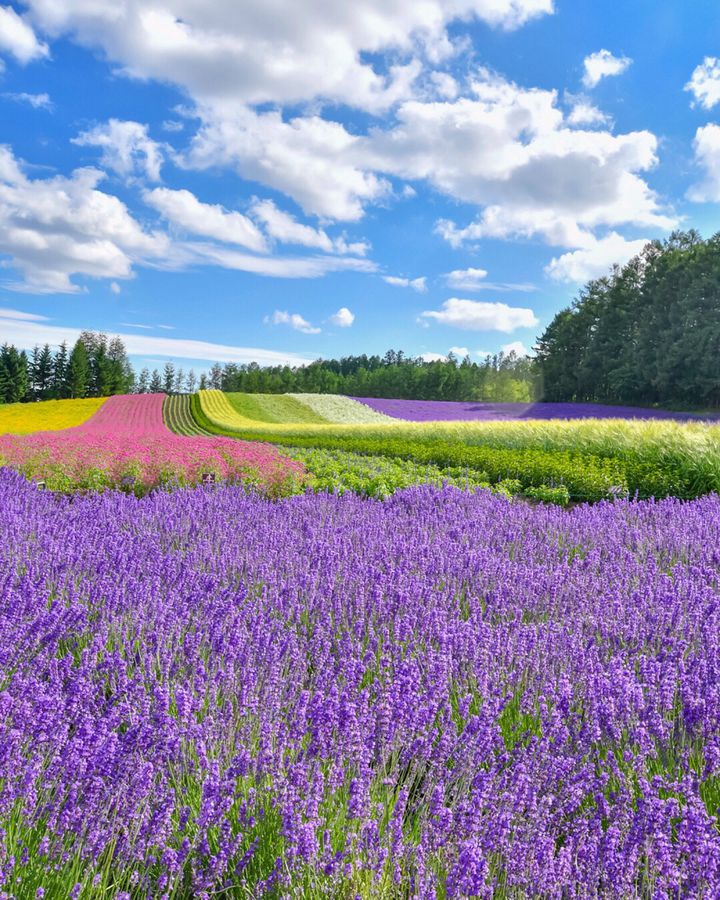 One more recommendation is the lavender soft cream. A various flavor, melon, vanilla and Hokkaido original fruits are available too. If you can not make up your mind then why not mix two flavors.
5. Rikugien 六義園
〒113-0021東京都文京区本駒込6 Honkomagome 6, Bunkyou ku, Tokyo. Tel: +81-3-3941-2222.
https://www.tokyo-park.or.jp/#googtrans(en) The website is available in English, Chinese, Korean, French and Spanish.
THE MOST ROMANTIC SPOT FOR AUTUMN LEAVE IN TOKYO
The life in Tokyo can be hectic and tiring, but we can never imagine that there is a healing power spot at even busiest city.
The best time, the best view is at night that you would relish! Even during day times you fully enjoy its view.
The history of an oasis of the metropolis
The construction of the gardens took place between 1695 and 1702, and was headed by Yanagisawa Yoshiyasu by permission of the fifth TokugawashōgunTokugawa Tsunayoshi. It is a typical example of a daimyo garden from the Edo period. After the death of Yanagisawa, it was neglected. The founder of Mitsubishi, Iwasaki Yatarō, bought the gardens in 1878 and began to restore it.[2] This was continued by his younger brother and successor, Iwasaki Yanosuke. The gardens today are about one-third of their original size. In 1938, they were donated to the Tokyo City government. They were specified as a special place of scenic beauty (特別名勝, tokubetsu meishō) by the Japanese government in 1953. by Wikipedia
6. Tofukuji 東福寺
〒605-0981京都府京都市東山区本町15-778 15-chōme-778 Honmachi, Higashiyama Ward, Kyoto. Tel: +81-75-561-0087. The website indicates as "not secure", therefore I do not attach it, however you can visit at your own risk.
THE FIERY AUTUMN LEAVES
Toufukuji is the famous place for popular autumn leaves in Kyoto. Among all autumn leaves, the autumn leaves in full bloom that 2000 maple trees produce at the precincts of the temple is the most magnificent view. That is why this is the such famous place where regarded as one of the best Kyoto autumn leaves.
The autumn leaves is something you should experience but if you visit here in Spring the greenery view surrounding the temple that you can see from the Toufukuji is another way of enjoyment.
7. Shikisai no Oka 四季彩の丘
〒071-0473北海道上川郡美瑛町新星第三 Dai san, Shinsei, Biei Cho, Kamikawa gun, Hokkaido Tel: +81-166952758.
https://www.shikisainooka.jp/en/
THE BEAUTIFUL RAINBOW FLOWER FIELD [SHIKISAI NO OKA]! HEAVEN IN SUMMER!
Shikisai no oka owns a vast extend of land where a various seasonal colorful flowers bloom. It is a just like rainbow. At a glance, you enjoy stunning colorful flowers which are indescribably beautiful. I am sure we all become speechless.
We are able to ride on a tractor moving around this enormously huge filed! The best spot for photography, just like a postcard! Why not enjoy this spectacular panoramic scenery?
In winter, this wonderful field becomes Snowland. Riding snow rafts must be thrilling and exciting!!
8. Hitsujiyama Park Shibazakura no Oka 羊山公園 芝桜の丘
〒368-0023埼玉県秩父市大宮6267 Omiya 6267, Chichiby City, Saitama Prefecture. TEL:+81-494255209. The website indicates as " not secure", therefore I do not attach it, however you can visit at your own risk.
A LARGE PARK WITH THE FULL OF NATURE, THE HILL OF MOSS PHLOX
You miss cherry blossom season, don't worry, there is a place you can go to see Moss Phlox in Saitama.
One of the feature of this park is to change its view as different flowers bloom every season. Many anime lovers visit this park too as it was used for location of a famous anime called [Anohana/The flower we saw that day]. Chichibu City is just one hour away from Tokyo by a train, and still capital areas but with plenty of nature.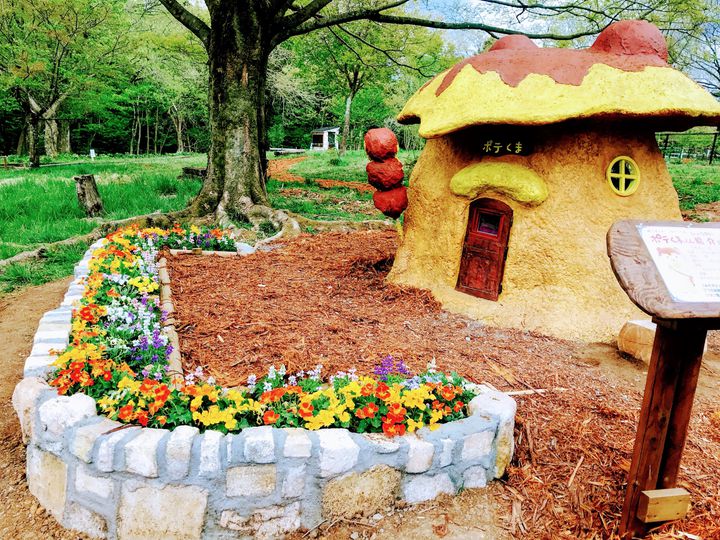 It is not only viewing the beautiful moss phlox that you can do but also befriending to a sheep. looks so cute! A museum and an art museum are nearby where you could fulfill your spring day-out!
9. Ao no Dokutsu 青の洞窟 [Blue Cavern]SHIBUYA (WINTER ONLY)
〒150-0041東京都渋谷区神南1-5-15代々木公園ケヤキ並木 青の洞窟SHIBUYA. Keyaki Namiki, Yoyogi Park, 1-5-15 Jinnai, Shibuya, Tokyo. Tel: +81-3-6808-7613. The website is not available.
THE ROMANTIC AND FANTASTICAL TUNNEL
Are you planning to visit Tokyo with your partner for Christmas? Then this is a perfect place to be. Walking through this fantastic shining blue tunnel is surely something unforgettable and memorable experience that you could ever have.
10. Awaji Hanasajiki あわじ花さじき
〒656-2301兵庫県淡路市楠本2865-4 花さじき Hanasajiki, 2805-7 Kusumoto, Awaji City, Hyogo Prefucture. Tel:+81-799-74-6426. The website indicates as " not secure", therefore I do not attach it, however you can visit at your own risk.
Awaji Island is a fortunate place with warm climate and often called [Flower Island]. [Awaji Hanasajiki] is located at the north of the island. Hyogo Prefecture has set this place up as a famous place for flowers since April 1998.
A FLOWER FIELD IN THE SKY. THE HEALING, RELAXATION, PEACEFULNESS THAT FOUR SEASON FLOWERS OFFER
Spring is canola flowers and poppy flowers.
Summer is sun flowers and red and blue salvias. Autumn is cosmos. And Winter is Matthiola incana. Awaji Island is well-known place for the production of Mattiola incana.
My preference
To be honest I love all gardens above. Now that summer is approaching I want to visit Shikisai no Oka in Hokkaido eating lavender & melon soft cream as I've never been to Hokkaido. Then if possible stay in Japan until this winter, so that I could visit Kyoto Ruikouin to see magnificent autumn leaves and then travel to Awaji Island to spend some days. I might pay a visit to my friend at Hyogo to go to onsen together. This will be a perfect holiday to me, at the same time it sounds like I am escaping from my reality life in UK. Where your destination would be?
Thank you for reading my blog.