Hanami (花見)
The spring has come this year too wherever you are! I love Spring with two reasons. First, all things such as buts, sprouts, flowers and birds are awaken from long cold Winter and become active, the sign of warm climate is coming just round the corner!! Second reason is that I was born in Spring!!
One of Japanese traditions and an activity is called [hanami], is a celebration that is centuries old. Hana [はな] means flowers and mi [み] means a viewing. A verb "To view" is [miru見る].
The peak period depends on the places and climate, however in general, the cherry blossoms bloom between late March and April in Tokyo, Osaka and Kyoto and other places. During these periods towns hold Sakura [cherry blossoms] festivals. However, some places like Okinawa, Sakura festivals are held in January. On the other hand, in Hokkaido in early May.
Japanese people love cherry blossoms not only because they are so beautiful but also they last blooming for a short period, a maximum of two weeks.
When the cherry blossoms bloom in Japan, people love to picnic under the cherry-blossom trees, as well as play music, karaoke, dance and play cards with families, friends, or coworkers in either during the daytime or nighttime.
Songs For hanami season
In my previous blog, I have introduced two songs for this hanami season. If you are curious and want to sing in Japanese while you are looking at cherry blossoms near your place, check it out in my previous blog! Thanks.
The Sakura Festivals
The sakura festivals are held throughout of Japan, and are organized by towns and usually local companies support them. As you can see the photo below, each company's name are written on the pick and white lantern. Those lanterns are displayed and illuminated at night.
YOZAKURA – Sakura at night/夜桜
People enjoy [yozakura], a illuminated cherry blossoms at night.
The famous locations for Hanami
MEGURO RIVER
My recommendation of [yozakura] would be the one at Meguro, in Tokyo.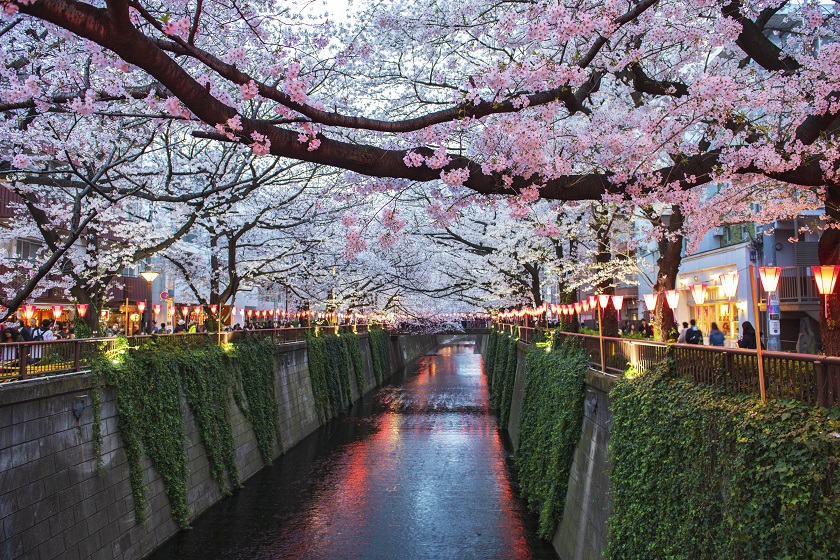 I visited Meguro River at night. Meguro River runs thought about 5 miles of Tokyo and an half of its bank is adorned with cherry blossoms trees. A paper lanterns are arrayed alongside of the river which makes this place magnificent and an ideal place to enjoy [yozakura] at the night. Fancy restaurants and trendy bars are nearby. Definitely this is the place to visit!!
KYOTO KEAGE INCLINE
This is the place I really want to visit one day!!!
The Keage Incline is the historical place in Kyoto. This is the longest inclined railway ruin around the world, about 582 meters long slop with railroad tracks, and was used until the 1948 to transport boats between Okazaki Canal and the canals at a higher elevation. It is located near the Nanzen-ji temple in Higashiyama, Kyoto. Now it is the world heritage in Kyoto.
About 90 cherry trees are planted alongside of the railway tracks, during the peak period we are able to walk on the track to enjoy incredible breathtaking view of cherry blossoms.
Can you just imagine walking on the track being surrounded by such magnificent cherry blossoms trees? What a peaceful feeling you could have!!!
OSAKA PARK
A well-known famous place for hanami, the Nishinomaru Garden is a must-visit!!!
The park spread around Osaka Castle with a plenty of greenery, is an oases in Osake City. Easy access from the nearest station. There are about 360 cherry trees and a plum grove with 1270 plum trees.
YOSHINO YAMA
「一目千本」ichimoku sen bon means thousands at a glance, a place where one can view a vast number of luxury cherry blossoms trees at a glance.
Mt Yoshino/yoshino yama・吉野山
It is such a gorgeous view as if there are thousands trees. In realty there are about 30,000 cherry trees close together in four areas. Mt Yoshino is located in Nara Prefecture. The view looking down from Yoshizumi shrine is particularly magnificent!!
ONO ZAKURA DUZUMI KAIRO
A 4 km of cherry trees tunnel is overwhelming.
This beautiful breathtaking tunnel of cherry blossoms trees can be seen in Ono City, Hyogo Prefecture. The peak is around late March till the beginning of April. We can enjoy relatively for long period. About 650 cheery trees are planted which is the longest street lined with cherry trees.
The traditional Japanese food for Hanami
Just looking at cherry blossoms can be boring without delicious foods and sweets.
Those are commonly eaten while doing Hanami. I know we can not go to Japan for Hanami this year so let's just look at them and enjoy as if we are eating!
How to make Chirashizushi
If anyone is interested in how to make Chirashi zushi please check on Menu, chick Japanese food.
Enjoy Hanami at home this year!!! 
According to NHK New Web Easy, the number of people, who buys sakura at flower shops and enjoy hanami at home, has been increasing.
On 14th of March, the Japan Meteorological Agency announced that cherry blossoms has bloomed in Tokyo, however due to an emergency declaration due to new variant of Covit 19 has been issued, it seems to be difficult to do Hanami outside like normal years.
The flower shop at Minato ku, Tokyo said that the number of customers who buys branches of cherry blossom has been increasing. The branches of cherry blossom has been selling 20 % more than last year. The bouquet including its branches has been selling 60% more compared to last year..
Most of the branches are still buds and being sold. The customers, who want to enjoy the atmosphere of hanami and who want to display at background when they are at the meeting, are buying.
The flower assistant said " the variety of customers from young people to elderly people have bought. As they have been staying at home longer than ever, they want to enjoy watching the buds growing.
Hope for The Future!
Let's hope we all will be able to travel to Japan at Sakura Festival season next year!!!
Thank you so much for reading it!!!