Japan is a country of many (maturi) festivals. A lot of festivals are associated with the changes in the seasons.
What is the Setsubun?
Setubun means "the changing of seasons" and the festival to mark the end of Winter and start of Spring. Certainly we do not feel like the start of the Spring, specially it is snowing right now while I am writing this blog. However according to an old calendar Spring starts in February. Every year on 3rd February, people throw roasted soya beans around the house to bring good fortune, saying "oni wa soto, fuku wa uchi" ( おにはそと、ふくはうち)、which means devils out, good fortune in. Some shrines also hold special bean-throwing ceremonies. Children specially like this festival. This day is called Setsubun no hi. It happened on 2nd February this year 2021. Apparently it was the first time in 124 years.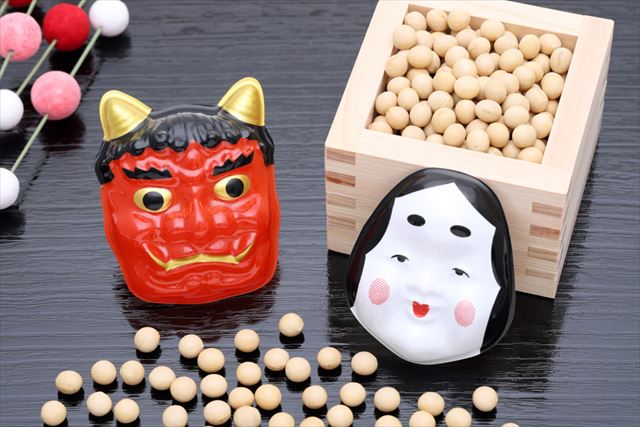 As you can see, the left red one is a devil which represents bad luck of the old year and the right white smiley face represents the fortune. Some families play a game at home. My family used to do that as well. Usually some family members play the roles. Probably in the common way is that fathers are the one to play the role of a devil wearing the devil mask and mothers are the one to pretend to be a fortune one wearing the fortune mask like in the photo above. The most enjoyable part in this game is to throw beans to the devils. Who are to play that part? Of course that would be their children, throwing beans at their father who is a pretended devil and chasing away him, saying oni wa soto, divils out, dvils out, go away the bad luck!!! Instead of soy beans my family used peanuts.
As I have mentioned earlier some shrines hold these ceremonies.
Let's practice some words relating to this festival:
Setubun  せつぶん Changing of the seasons
Mame まめ Beans
Oni おに Devils/Demons
Fuku ふく Fortune
Mamemaki まめまき Bean-throwing
Ehoumaki  えほうまき Long sushi roll
Shout out the phrase below to chase away the bad spirits before the spring.
"Oni wa soto, fuku wa uchi"
"Bad spirits out, good luck in"
おに は そと ふく は うち
Why does Japanese Eat Ehoumaki on Setsubun day?
The other main thing we do on Setsubun day, is to eat Ehoumaki. Ehoumaki is a special sushi roll that Japanese eat for celebrating Setsubun. It is at the beginning of Spring, on the third of February every year (this year was 2nd) that we eat Ehoumake to bring fortune and good luck throughout the year! This tradition came from Ōsaka and consists of eating a big maki in one piece. This maki must contain seven ingredients related to the seven deities called shichifukujin, fortune gods. It must be eaten in silence, facing 恵方 (Ehō) the fortune direction which changes every year, so you have to make sure you got it right! Although this tradition started from Kansai region of Japan, it was spread throughout the country with the help of convenience stores selling them. What a convenient world we are living. Of course, we can make them at home too!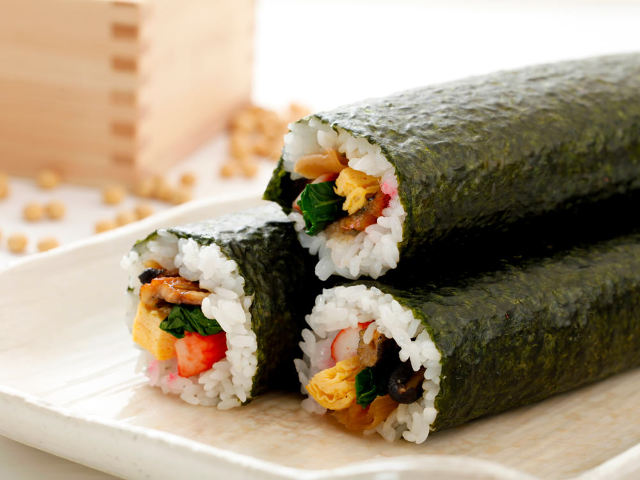 RELATED INFORMATION – HOW TO MAKE EHOUMAKI
https://www.japancentre.com/en/recipes/1350-ehomaki-sushi-roll
Hope you enjoy reading this. May be you challenge making Ehoumaki next Setsubun!!!!