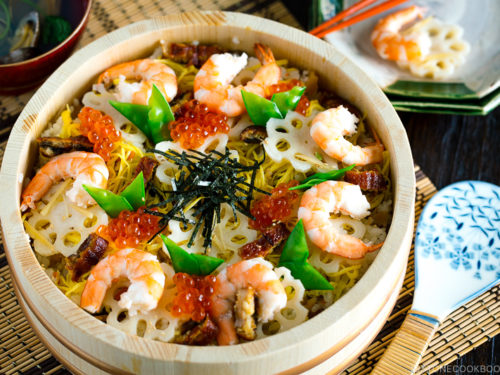 I have just came back from walking! I am so hungry! Even if we stay at home without doing any walking we still become hungry don't we. It is a time to eat lunch!!! So Let's prepare for lunch!
Do you know what is "chirashizushi"? I am sure quite lots of people know what is "sushi". Sushi (すし、寿司、鮨) is a traditional Japanese dish of prepared vingared rice, accompanying a variety of ingredients, such as seafood, often raw, and vegetables. And they are a handful piece. Chirashizushi (ちらしずし)is made of sushi rice with bright, colorful topping, such as raw fish, seafood, eggs, vegetable , normally seen in rolled sushi. This dish is great for parties and special occasions because it is normally served in a bowl. The picture above! Looks so gorgeous doesn't it
However, it does not matter you can make it anytime at home! Chrashizushi I made the below topped with eggs, prawns, cucumber, spring onions and crab stick、that was all. In fact you can put any topping you like! I know、I know it looks rather too simple and nothing gorgeous about it as I used whatever I had in my fridge but it was delicious!
HOW TO MAKE MY CHIRASHIZUSHI
作り方 
To make sushi rice , first we cook rice. すしライスをつくる。We can buy a product called sushi taro (すし太郎)。I have attached the photo of the product below. All we have to do just mix (まぜる) stuff already made (the right hand side in the photo) with cooked rice (500g) in a bowl. Then here we are , sushi rice is done! 出来上がり!There are shiitake (しいたけ)、takenoko(たけのこ), kanpyo(かんぴょう)、ninjin(にんじん)and renkon(れんこん) marinated with sweet vinegar.
Next, make Japanese omelet (たまごやき) and slice them. たまごやきをつくる。そしてきる。
Cut cucumber, crab stick, spring onion. きゅうりや、かにスティックや、ねぎをきる。I bought already made prawns.
Put all toppings on the top pf sushi rice. トッピングをすしライスのうえにのせる。まぜる。
Eat. たべる。 
It is so easy and quick process. Delicious!!! (オイシイー). I am aware of some people in some countries may not be able to get this product to make sushi rise. So I attach the two links below.
HOW TO MAKE SUSHI RICE IN TWO WAYS! Check them out!!!
Good luck on making chirashizushi!!! Look forward to hearing from you how get on with…